2) 4-page brochure or newsletter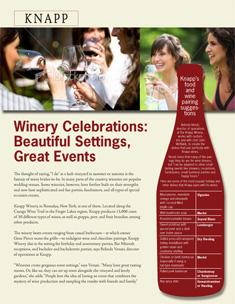 The 4-page marketing piece is designed to offer your customers a great deal of helpful, valuable information.
Whether you want to reach customers one or two times per year, or each season, your 8.5" x 11" four-pager will be an exquisite, valuable marketing tool that will make customers think of you when they need the products and services you offer.
For example, the publication shown at the left is a gorgeous four-pager based on an interview for Celebrate with Style, and now posted on our sister site, Tips from the Experts.
It describes clever events produced by an upstate New York winery. It positions the winery not only as a pretty place not only for weddings, but also for but also as a perfect venue for fundraisers and lots of celebrations--that customers might never thought of!
It also shows the director of sales and the winery's chef as the creative and customer-focused event pros that they are.
3) 6-panel tri-fold brochure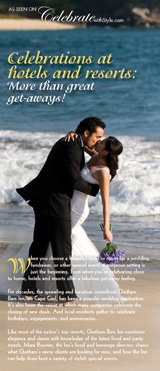 The 6-panel easily-portable brochure is printed on cost-effective 8.5" x 11" paper that's folded into three 3.5" x 8.5" panels.
The brochure is interesting, helpful, and offers great ideas. All of that helps you.
The brochure at the right, for example, shows an array of fun celebrations that customers have hosted at a New England resort. It also shows the latest food and party trends, as well as how flexible and accommodating the staff is.
All of the content comes from an interview with the resort's director of sales, for Celebrate with Style, and now posted on Tips from the Experts.
A brochure like this is perfect for displaying, handing out, or mailing.
4) 8-page brochure or newsletter
Here's a program that's perfect for single or multiple-site restaurants, chain businesses, medical practices, law firms, associations, and nonprofit organizations, to name just a few.
The 8-page, 8.5" x 11" format makes it well suited to showcase a number of experts within the same chain, practice, or association.
For Event Professionals Only:
Our Prix Fixe Marketing Program:
For restaurant owners, event planners, caterers, floral designers, photographers, bakers, DJs or music entertainers, or any event professionals.
Click here to learn about our powerful, affordable combination Web/Print Prix Fixe marketing program!