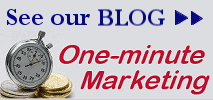 To grow your business,
you need to stand out.
It's harder than ever to get and keep customers' attention. Many people ignore ads. They tune out sales pitches.
Don't tell customers you're the best. Show them!
JBA Media Group is a Long Island marketing services company has helped businesses get and keep customers--for 25+ years.
You at your best: We take the time to learn about you. We find out how you're different from your competitors--your knowledge, experience, your successes, etc.
You speak with us--We write the copy: Unlike most of our competitors--we write the content that best presents your strengths, advice and tips, solutions, and examples of how you've helped clients or customers. We give consumers the kind of information they want, need, and demand.
You stand out: We create beautiful, interesting, and user-friendly new or updated Websites. And we can produce any or all of a full range of marketing services. individually, or as part of a well-integrated marketing program.
Let us help

you

grow your business! Check out some of our recent work:
Web

:
Print

:
You need to stand out! We can help.