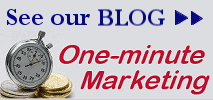 Don't tell customers that you're
the best. Show them why!
JBA Media Group is a Long Island marketing services company that can help your business attract new customers and keep existing customers loyal.
We show people why they should do business with you: Unlike most of our competitors, we don't take your existing content and plug it into a new setting. And we never use pre-fab text.
We take the time to learn all about you, your business, your experience, your challenges, and your successes. We find out how you're different from your competitors. Then we create content that lets prospects see how you stand apart and why they should choose you. Key media programs: Websites, e-mail marketing campaigns, blogs, social media, presentations, and all types of print formats.
Check out some of our recent marketing work:
Web

:
Print

:
You need to stand out! We can help.

Save
Save